A CRM that manages all sales and marketing phases. If the customer is at the center of the company policy a software for Customer Relationship Management is essential.
New tools for CRM, such as Zoho CRM, offer functions unthinkable until a few years ago. From database for contacts with customers, the CRM has become a real marketing and Lead Generation tool, starting from automated functions, and evolving by managing the functions of ERP software in companies that want to use a single web-based platform for the management of all business functions.
Zoho CRM functions
The Zoho suite, used by over 20.000 companies, many of which are known worldwide, allows you to connect with the customer through phone, email, chats and social media, all from a single platform. Zoho CRM optimizes and standardizes the sales processes of the company team, suggesting the actions to be taken and automating many of the activities.
Zoho CRM is a simple tool to manage and allows you to segment your contacts based on their behavior, through the tools of Advanced analytics, creating marketing campaigns tailored to each type of user. Zoho CRM develops reports and reminders, understands the market and intercepts trends, improving the productivity of the company and supporting the strategic and data-driven choices of managers.
Zoho CRM includes several functional modules that can transform it into an ERP system, able to manage quotes, invoices, accounting, warehouse management and purchases. The Zoho CRM modularity and scalability allow users to drive the company growth using a single platform for all departments thanks to functions dedicated to Management, Accounting, Digital Marketing and Marketing Automation.
Marketing with Zoho CRM
Zoho CRM performs various marketing and lead generation functions. Here are some:
Email Marketing
Zoho CRM monitors the results of newsletters and emails, analyzes the delivery, opening rate and reading associated with the profile of the individual customer. Zoho generates follow-up cycles based on marketer preferences and more responsive leads, facilitating A/B tests to locate the most engaging graphics and texts. The monitoring function of the sales team based on emails sent allows to improve the overall performance. Zoho CRM can be integrated with all e-mail systems and records emails in the CRM, collecting contacts and conversations. The tool can manage massive email and newsletters, analyzing their performance.
Customer Support
Live chat is a great tool for customer care and improves Customer Experience.
Zoho allows you to activate a webchat on the company's website, which can be used by users to ask about products in real-time, increasing sales and conversions. Even chat messages sent by users when operators are offline are saved and managed as notes to be encountered. Live Chat activity is analyzed and presented as clear and customizable reports, useful to verify the effectiveness of customer service.
Lead Generation
Zoho CRM immediately transforms website visitors into leads. The monitoring functions allow to track returning visitors and give the chance to contact them with personalized proposals.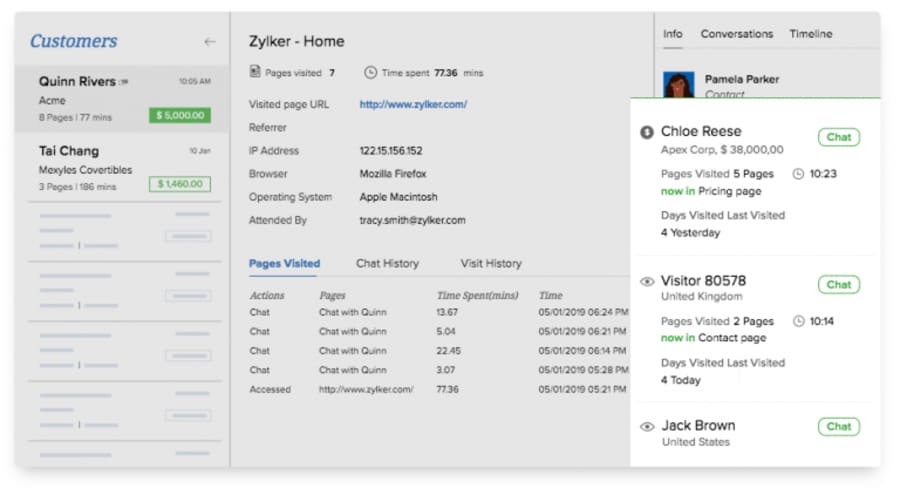 Through the automatic segmentation of visitors in leads, prospects and customers, Zoho CRM facilitates the work of the sales team.
The segmentation of new contacts is represented on charts and reports, to facilitate their interpretation. Managers will be provided with data on the origin of visitors, their research and other useful elements to improve marketing campaigns and identify new targets. You can also compare metrics over time to understand trends and boost interaction with customers.
Bytek is an authorized partner of Zoho CRM and offers the tool in Software as a Service (Saas) formula, customizing it based on client needs and carrying out training activities for the operators.