Zoho Analytics is the Zoho Business Intelligence tool that allows you to create detailed dashboards to analyze all your company's data and turn it into useful information to support decision-making processes.
Thanks to Zoho Analytics, you can quickly connect all your company data:
CRM data;
ERP data;
email marketing data;
web analytics data;
digital advertising data;
On-premises or in cloud business databases.
Bytek is Zoho's authorized partner and uses for years the application for its business management. Zoho support customers designing flows ERP (Enterprise Resource Planning) to be analyzed with Analytics and developing performance dashboards that cross-reference data from other databases such as Google Analytics or Google Ads.
Here's in detail what Zoho Analytics allows you to do.
Zoho Analytics Data Analysis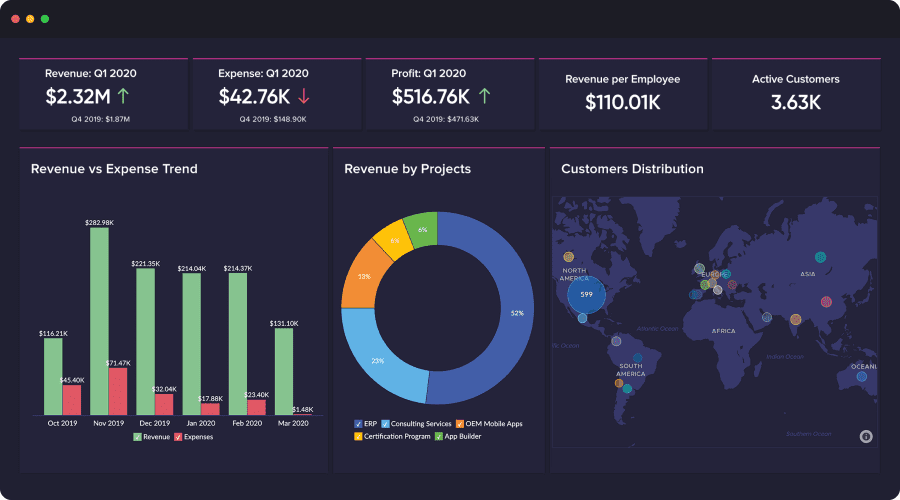 Zoho Analytics is a Business Intelligence (BI) software that allows you to create in a few minutes data visualization dashboards with excellent performance. Thanks to the application, from the numbers and figures, you can get useful insights to establish the future assets of your company. With Zoho Analytics, you can keep track of your business metrics, visualize long-term trends, and immediately identify outliers so you can always make the right decision at the right time.
Data collected from different sources can be entered to create cross-functional dashboards, which allow you to view the status of activities in all areas simultaneously with a very easy to use drag-and-drop.
Zia, the smart assistant
Zia is the smart assistant of Zoho Analytics: write your questions and Zia will find the appropriate answers giving back reports and widgets KPI (Key Performance Indicator or business performance index). Zia is based on Artificial Intelligence technologies, Machine Learning and Natural Language Processing (NLP).
Sharing data safely
All reports can be safely shared online with customers and colleagues by adding comments and conversations if needed. You can also set smart data alerts to detect anomalies or malfunctions, so you always have the situation under control at every time.
Built-in Analytics
Zoho Analytics is a powerful Business Intelligence tool because data and reports are integrated with all the other applications and with the designated website.
In summary, these are the strengths of Zoho Analytics:
Safe data and report sharing – the application guarantee a safety sharing process with costumers and colleagues thanks to the backup options and encrypted connection.
In-depth and fast analysis - thanks to complete mathematical-statistical functions, Zoho Analytics can analyze millions of KPIs, returning a very comprehensive report. Also, the use of modern database technologies and an efficient analysis engine allow you to have the data in a few minutes, considerably saving time and energy.
Integrated data - it is possible to combine data from different sources such as Google Analytics and Google Ads, creating "transversal" reports; or join them together connecting different services, creating, for example, reports for costs and revenues.
Last but not least: the Zoho Analytics interface is very intuitive and easy to use. These are all the reasons why you should start using Zoho Analytics and transforms raw data into valuable information and insights.
Ask for advice from us ByTek, we will advise and support you creating your reports and dashboards, and, above all, we will help you understand how to transform your company's numbers into useful information when making decisions.