How do you acquire leads in B2B? The answer can only be articulated because it is addressed to complicated structures, which present different complexities, starting for example from the way of contact, up to the management of the relationship. ByTek offers solutions supported by proven methodologies and advanced technologies. Our method? Making choices that are result-oriented and data-driven.
What Changes in B2B Lead Generation
B2B marketing is more complicated than in other contexts for three main reasons.
First, because of the difficulty of setting a target. An audience holder to target in B2B today could be LinkedIn, which however reaches a portion of users at a cost per thousand impressions. Targetting this type of subject is therefore very complicated.
Second, for the complexity of relationships: to talk to a company sometimes you need to talk to different people and reach the right one at the right time could be difficult.
Thirdly, traceability. In digital, one of the strengths of the offer is the ability to track results in real-time. B2B processes are much longer.
Often companies, despite investments, are unable to get real-time information on what is happening to their digital assets. What can happen sometimes is:
The development team launches a change that undermines the collection of leads.
Users are unable to download materials
It takes some time before you realize the problem
You lose business.
What then are the strategies to be studied to achieve the objectives?
How to Do B2B Marketing
To solve problems, to provide mainly qualified leads even in complex sectors such as B2B, ByTek has developed a lead generation process using proprietary technologies and methodologies that integrate internal and external data and allow to reach the right people, at the right time, with the right message.
Four main guidelines of the process:
Question and research analysis – starting from the analysis of user needs by identifying emerging trends
Micro-target construction – build targets of people within the company in a meticulous way by finding the best channels
Launch of campaigns – operate the entire funnel with different channels and content
Enrichment and lead qualification – using DataLysm software to qualify leads.
Each step, in turn, is developed through precise steps: the analysis and clustering of the collected information then allow us to collect useful information.
The importance of fast testing
Adv campaigns are a great tool to get to know your audience better. Each week we analyze the results of the previous week, gradually improving results.
AI and Lead Generation B2B
At Datrix we have been able to develop a series of technologies and methodologies able to reach hundreds of decision-makers in various companies in various ways, not only through LinkedIn, by reconciling the navigation data of several people traceable to the same company and have a minimum of traceability. In this way, we can experiment new ways of engagement that allow us to bring these people within a structured commercial flow.
We then intervene both through advertising and inbound marketing and through the creation of content and we oversee the entire conversion process with the different channels. But above all, every week we experiment new solutions with A/B testing methodology.
A/B testing
We identify all variables to test: message, target, channel, mode of engagement. This phase is very important: at each iteration, we do not only take home the lead, but also a progressive knowledge of what are the best ways to talk to potential customers.
The variables on which it is possible to operate are many: message, target, channel, images, mode of engagement, mode of nurturing. All these are elements that can be combined, generating hundreds of possible crossings and thus identifying the best combinations in terms of effectiveness.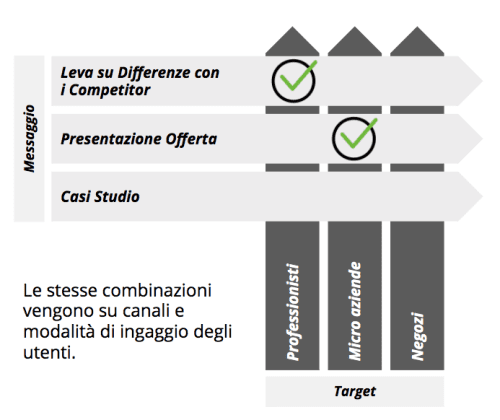 The leads are uploaded on the CRM starting a stream of lead nurturing managed through the software Zoho Marketing Hub that allows you to automate the contact. Thanks to the integration with Calendly and our human supervision, Bytek directly generates appointments in the sales network calendar, at times when people are free.
This lead management method allows you to streamline your processes and maintain lean management of your sales network even when your lead volumes increase sharply.
B2B Lead Generation: How it works
Starting a B2B lead generation project with us essentially means being willing to learn, to shake the online sales model from its foundations and try to turn it upside down. It won't be 1 to 1 anymore but it will be a model that foresees
the continuous experimentation of the engagement modalities on the single targets to understand each time the best way of contact
the digitization of all the lead management flow that passes through CRM and through CRM close the circle to get the best return on investment.
Starting a B2B lead generation path means being willing to learn, through a relationship of total transparency, to understand together
How to engage
How to close the lead
How to improve the sales process to make the best use of digital channels.
Whatever your sector, contact us and start a B2B lead generation process with us; we will study together how to improve strategies and have a structured commercial flow.