Here we are on Keyword Research. However, before discovering how to effectively do a keyword search we better understand what it is and what its aims are (and maybe even the differences with keyword mapping, which we saw in a previous article).
Keyword Research VS Keyword Mapping, the differences
Let's start from the beginning by saying that keyword research is an activity that is (also) at the basis of a keyword mapping. With the second expression in fact we could define the research activity (grouping, classification and analysis) of the keywords that bring traffic to the site. Keyword Research, on the other hand, is a search for keywords that could be relevant to the subject of the site, it is primarily used to define how users call things on search engines, how they call the subject of the site we are analyzing, the products or services it sells.
We can also say that complete and effective keyword research helps to make a keyword mapping just as effective, expanding as much as possible the search terms to be taken into account, on the one hand for the construction/optimization of the site on the other hand for all the analyses that start from a keyword mapping.
Keyword Research: The Fundamental Steps
Necessary tools: Excel, analyzed site, our thinking head (be careful, this will also serve in the next steps).
The keyword search is one of those activities that make SEO a discipline for thinking heads. In fact, you start from a simple reading of the site and its contents, taking into account texts, titles, navigation menus, meta tags, structured data and whatever else your experience thinks you need to analyze. From here we'll draw up the first list of keywords from which to start.
Keyword Expansion
Necessary tools: Excel, Google Suggest, Trends, Related, Keyword Planner
Once satisfied with our list we can start with the expansions, i.e. what users are looking for the keywords we have selected for our site. If the first activity has been done in the best way, the second one will proceed very quickly, the expansion of keywords will maintain the necessary consistency and we will not run the risk of going off-topic and start collecting keywords that distance themselves from the target of the site and the users' search intentions.
Keyword expansion (part two)
Tools needed: Excel, Uber Suggest, AnswerThePublic, SemRush, SeoZoom (or your favorite keyword selection tools)
If you are still not satisfied with the first tranche of expansion, i.e. you don't consider the keyword research complete with all the related keyword searches, you can continue to expand using different and more specific tools and tools for keyword selection and search. This step, although fundamental for effective keyword expansion, is very delicate because this is where you run the highest risk of detecting our keyword list. In fact, it could be possible that, if the expansion goes to extremes, we will include keywords completely out of target compared to our site, leading to misleading or even counterproductive results all subsequent analysis, at the basis of which, the goodness and effectiveness of keyword research is an essential requirement.
Fundamental: at the end of this step it is essential to proceed with a deep and careful cleaning of keywords, to eliminate the more generic, off-target or duplicate keywords, always to maintain a high standard of quality.
Research Intents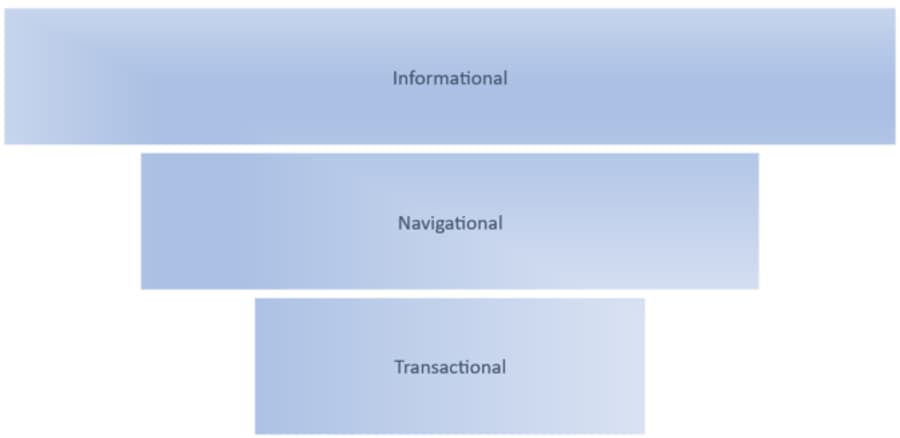 Another point to take into account is the search intents of the Users: good keyword research takes into account, already from the first selected keywords, what is the search intent of the Users who make such queries; paying attention to this aspect from the very first steps will help with subsequent analysis, in which differentiating and distinguishing the Search Intents and the parts of the funnel from which users expect to enter our site will make the difference both in terms of quality of analysis and in terms of optimization actions (not only SEO but also CRO) to be proposed.
Clustering
Again, it is very useful to divide keywords into clusters, with respect to their contiguity of interest and proximity to strategic concepts. This step, which we could also call clustering or subdivision of keywords, will not only be useful for subsequent analysis (for example, when defining the new information architecture of the site) but can be an excellent starting point for further expansions, more specific and more focused than the subtopic identified through clustering.
Bonus: for the more geeky and enterprising it is possible to cluster keywords through machine learning algorithms, with specific software or programming languages. We point out here, just for information only but reserving the right to make some practical insights later on, the software R and two clustering algorithms: kmeans and dbscan, very powerful and versatile, useful to automate the work when the volume and number of keywords become high (over 5,000).
Classify Keywords
A good habit is to classify keywords for different types. In particular, we recommend a classification by:
Topics;
Brand/Non-Brand;
Search Intent;
Micro-moments.
Deepening the classification of keywords for different types will be useful to make more and more in-depth and differentiated analysis, starting from the highest levels up to the most detailed and in-depth for specific sections or sub-elements that make up the site or keywords that bring (or could bring) traffic.
SEO analysis starting from Keyword research
In the last part of our keyword search article we go into more detail about the analysis that can be done from keyword research.
Benchmark
We have already talked about the benchmark analysis in the article on keyword mapping, also starting from keyword research it could be possible to make a comparison, both with the main competitors and on SERPs, identifying in the first case which are the competitors that have more visibility on the keywords of our interest and what they have done to achieve such results, while in the second case, focusing on what are the research intentions, questions and requests of the Users that carry out that type of research.
Market analysis
Very similar to benchmark analysis, starting from keyword research, a market analysis can be carried out by identifying the search volumes that can be generated from the list of keywords taken into consideration, with calculations and projections that can lead to define both the necessary investments and the timing and actions to be taken to reach an established share of its reference market, obviously taking into account only the traffic that can be generated by search engines and Google in particular.
Brand analysis
Effective and classified keyword research by dividing brand keywords from non-brand keywords can also be very useful as a starting point for an in-depth analysis of the presence of the brand on SERPs. Let's imagine what kind of effectiveness you can get from a complete analysis of the presence on Search Engines for brands that have internal and external sales channels (for example, brands sold on proprietary e-commerce and on the most famous marketplaces, both mass-market and vertical). With a complete keyword mapping we can go and analyze on SERPs how my brand is present, not only if it has internal or external channels but also which are the most visible types of pages and suggest different actions to optimize its presence and visibility on the net.
Funnel Analysis
Another very effective analysis that can be conducted starting from keyword research, classified for research purposes, is to identify if the site, with its information architecture, is responding well to the Intents of Users who do target research with the topic of the site, its products or its services, identifying precisely with which pages my site is responding to certain purposes, what kind of audience I am reaching and which I do not yet cover and how effective are my pages compared to the conversion funnel (customer journey and CRO).
In addition to those mentioned above, other analyses that can be carried out from keyword research are:
the optimization of the information architecture;
content optimization (starting from keywords actually searched by users);
the creation of new areas and sections of the site;
the identification of opportunities (both editorial – creation of new pages – and strategic – the introduction of new services, differentiated sales channels).
And in general, many other analyses can be made with the aim of widening the scope of analysis to identify all the points on which an improvement in coverage and visibility can be achieved.